PER SVENSSON / Photo: Annika von Hausswolff (p)&(c) 2014
------------------------------------------------------------------------------------------
Profile/CV
Per Svensson, sculptor, painter and soundartist, born 1965 in Gothenburg, Sweden. Educated
at the Royal University College of fine Arts in Stockholm 1985-90. Currently lives and works
in Övraby and Gothenburg in Sweden. With international merits of exhibitions with sculptural
and soundart works shown in various countries and places, such as LACE in Los Angeles,
Moderna Museet in Stockholm, Ystad Art Museum, Lusaka National Museum in Zambia, Heliosturm
in Cologne, The Academy of Art in Budapest, Gothenburg museum of art. Per Svensson has
created his own landmarks with his specific alchemic art expression and soundart dealing
with the forces of nature, alchemy, social and environmental issues, the architectural and
geometrical structures of nature and its relation to sound, image and space.
Per Svensson has also a degree i Architecture and was educated at The Royal College of fine
Arts School of Architecture. The combination of Alchemy, Sculpture and Architecture is often
present in his larger installation works and his permanent public sculptural works.
Said about Per Svensson:
"Alchemy reappears as a movement and mental image with Per Svensson. VITRIOL (Visit the
Earth's inner and trough purification you should find the secret stone). A spiritual,
artistic, metamorphosis in other words"
"Per Svensson is one of the leading visual and sound artists from Sweden"
/ Thomas Millroth, Art critic, Art Historian
"Per Svensson's paintings stand in a tradition of political painting but with a kick-ass
attitude that often is absent in art"
/ Håkan Nilsson, Art critic, DN
"Per Svensson's space capsule is a molecule constructed from life´s own atom, carbon, wich
encapsulate a tiny living space, a biosphere"
/Ingrid Sandahl, Professor of Space Physics, IRF, Kiruna
"...As with the contemporary artist Olafur Eliasson, he investigates the forces of nature,
it is a kind of scientific research but from a humanistic perspective"
/ Yrr Jonasdottir, Director of Ystad Art Museum.
------------------------------------------------------------------------------------------
PER SVENSSON; ARTIST, BORN 1965 IN THE DISTRICT MAJORNA IN GOTHENBURG, SWEDEN.

ACTIVE AS SCULPTOR, VISUAL ARTIST AND SOUND ARTIST SINCE THE MID 80's.
WORKING AS PROFESSIONAL ARTIST SINCE 1990, INTERNATIONALLY MERITED.

EDUCATED AT THE ROYAL COLLEGE OF FINE ARTS IN STOCKHOLM 1985-1990,
AND AT THE ROYAL COLLEGE OF FINE ARTS DEPT. OF ARCHITECTURE IN STOCKHOLM 1999-2000
WORKS WITH SCULPTURE, PAINTINGS, DRAWINGS, SOUND INSTALLATIONS, FILM AND ARCHITECTURE.


WORKS BY PER SVENSSON HAS BEEN PRESENTED AT L.A.C.E IN LOS ANGELES, HELIOSTURM IN
COLOGNE, BAHNHOF WEST END IN BERLIN, THE ROYAL ACADEMY OF FINE ARTS IN STOCKHOLM,
NATIONAL MUSEUM LOSAKA IN SAMBIA, YSTAD ART MUSEUM, GÖTEBORG MUSEUM OF ART,
ALMA LÖV MUSEUM, SKÖVDE KONSTHALL, CITÉ INTERNATIONALE DES ARTS IN PARIS, ANOMALOUS
GALLERY IN SEATTLE, TITANIK GALLERY TURKU, KRISTIANSTAD CENTER FOR CONTEMORARY ART,
BORÅS KONSTMUSEUM, CENTQUATRE 104 IN PARIS, AND MODERNA MUSEET IN STOCKHOLM...

...EXHIBITIONS AT VARIOUS GALLERIES... REPRESENTED WITH PUBLIC SCULPTURAL WORKS FOR
THE NATIONAL PUBLIC ARTS COUNCIL, ALMA LÖV MUSEUM OF E & U ART, THE STOCKHOLM COUNTRY
COUNCIL AND OTHERS...
PARTICIPATING ARTIST AND CURATOR OF THE EXHIBITION "THE GOTHENBURG PAVILION" AT ALMALÖV
MUSEUM 1998 & THE EXHIBITION "SVART LJUS/BLACK LIGHT" AT BORÅS MUSEUM OF MODERN ART 2012.



PER SVENSSON; COMPOSER, MUSICIAN, PRODUCER, PERFORMANCE ARTIST,
WORKS ALSO WITH SOUND COMPOSITON, SOUND PRODUCTION AND LIVE PERFORMANCES.
SOLO, AND IN VARIOUS CONSTELLATIONS.

STARTED HIS CAREER AS SOUNDARTIST & POET AROUND RECORD LABEL RADIUM 226.05 AND
FIREWORK EDITION IN THE MID 80'S WITH HIS FIRST VINYL RECORD & BOOK RELEASE IN 1987.

STARTED THE SOUNDART LABEL KOLSYREFABRIKEN RECORDS, THE RECORDING STUDIO SOUNDARTLAB,
Au 197.2 ART/AUDIOVISUAL UNIVERSE. STARTED THE SOUNDART COLLECTIVE AUDIO LABORATORY.
MEMBER OF FOLK/PSYCHROCK BAND MINDMACHE.

PRODUCER AND MEMBER OF THE GOTHENBURG BASED PSYCHEDELIC INDUSTRIAL ROCKBAND;
THE KINGDOM OF EVOL FEAT. FREDDIE WADLING.
MEMBER AND FOUNDER OF THE PSYCHEDELIC ROCK GROUP THE NEW ALCHEMY...



----------------------------------------------------------------------------------------------------------------------------------------------------------------------------------------------------



PER SVENSSON; KONSTNÄR, FÖDD 1965 I STADSDELEN MAJORNA I GÖTEBORG.

VERKSAM SOM SKULPTÖR, BILDKONSTNÄR OCH LJUDKONSTNÄR SEDAN MITTEN AV 80-TALET.
YRKESVERKSAM KONSTNÄR SEDAN 1990, INTERNATIONELLT MERITERAD.

UTBILDAD VID KUNGLIGA KONSTHÖGSKOLAN I STOCKHOLM 1985-1990,
OCH VID KUNGLIGA KONSTHÖGSKOLANS ARKITEKTURHÖGSKOLA I STOCKHOLM 1999-2000.
ARBETAR MED SKULPTUR, MÅLERI, TECKNINGAR, LJUDINSTALLATIONER, FILM OCH ARKITEKTUR.

VERK AV PER SVENSSON HAR VISATS PÅ L.A.C.E I LOS ANGELES, HELIOSTURM I KÖLN, BAHNHOF
WEST-END I BERLIN, KUNGL. KONSTAKADEMIEN I STOCKHOLM, NATIONAL MUSEUM LOSAKA I
SAMBIA, YSTADS KONSTMUSEUM, GÖTEBORGS KONSTMUSEUM, ALMA LÖV MUSEUM,
SKÖVDE KONSTHALL, CITÉ INTERNATIONALE DES ARTS I PARIS, ANOMALOUS
GALLERY I SEATTLE, TITANIK GALLERY I TURKU, KRISTIANSTADS KONSTHALL,
BORÅS KONSTMUSEUM, CENTQUATRE 104 I PARIS, OCH MODERNA MUSEET I STOCKHOLM...
...UTSTÄLLNINGAR PÅ FLERA GALLERIER...REPRESENTERAD MED OFFENTLIGA VERK FÖR ALMA
LÖV MUSEUM OF E & U ART, STOCKHOLMS LÄNS LANDSTING OCH STATENS KONSTRÅD M.M...
DELTAGANDE KONSTNÄR OCH CURATOR FÖR UTSTÄLLNINGEN "GÖTEBORGSPAVILJONGEN" PÅ ALMALÖV
MUSEUM 1998 & UTSTÄLLNINGEN "SVART LJUS/BLACK LIGHT" PÅ BORÅS KONSTMUSEUM 2012.


PER SVENSSON; KOMPOSITÖR, MUSIKER, PERFORMANCEKONSTNÄR.
ARBETAR OCKSÅ MED LJUDKOMPOSITON, LJUDPRODUKTION OCH LIVEFRAMTRÄDANDEN.
SOLO, OCH MED OLIKA KONSTELLATIONER.

BÖRJADE SIN KARRIÄR SOM LJUDKONSTNÄR OCH POET PÅ SKIVBOLAGET RADIUM 226.05 OCH
FIREWORK EDITION I MITTEN AV 80-TALET MED SIN FÖRSTA VINYLSKIVA OCH BOKRELEASE 1987.

STARTADE SKIVBOLAGET KOLSYREFABRIKEN RECORDS, LJUDSTUDION SOUNDARTLAB,
Au 197.2 ART/AUDIOVISUAL UNIVERSE. STARTADE LJUDKONSTKOLLEKTIVET AUDIO LABORATORY.
MEDLEM AV FOLK/PSYCHROCK BANDET MINDMACHINE.

PRODUCENT OCH MEDLEM I GÖTEBORGSBASERADE, PSYKEDELISKA INDUSTRIROCKBANDET;
THE KINGDOM OF EVOL FEAT. FREDDIE WADLING.
MEDLEM OCH GRUNDARE AV DEN PSYKEDELISKA ROCKGRUPPEN THE NEW ALCHEMY...



----------------------------------------------------------------------------------


CV >>

NEWS >>

CONTACT / LEAVE A MESSAGE >>

----------------------------------------------------------------------------------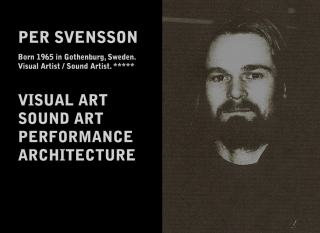 Photo: Leif Elggren
--------------------------------------------------------------------------------------------------------------


<< www.myspace.com/persvenssonsoundart


<< www.myspace.com/audiolaboratory


<< www.myspace.com/alchemythenew


----------------------------------------------------------------------------------



------------------------------------------------------------------------


<<www.persvenssonsoundart.com